Ford Mustang is one of the most popular sports cars in the world and now finally, it has arrived in Nepal. GO Automobiles, the official distributor of Ford Cars in Nepal, is going to soft launch Ford Mustang GT Fastback 2018 in the Nepali market on this Friday at its showroom located at Chabahil, Kathmandu. The Ford Mustang GT price in Nepal is set Rs. 1,70,00,000, (1.7 Cr) which is less than what we expected.
Ford Mustang had first been seen in 2017 NADA Auto Show. It had proved to be the showstopper of the event. The iconic Mustang was said to be available for sale before the end of 2017 in the Nepali market, however, it has been released now in Nepal. Mustang GT had an expected price tag of 2.5 Cr at NADA Auto Show of 2017.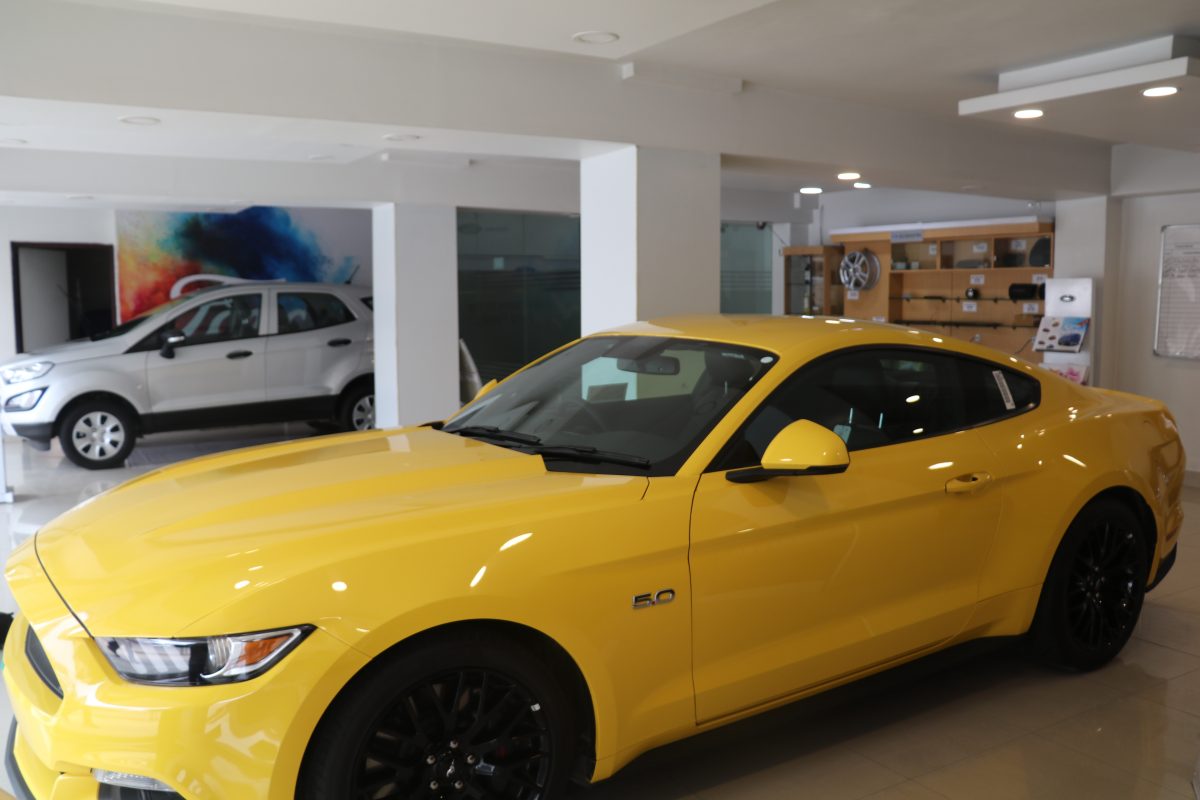 Ford Mustang has not been further modified or change in order to make it compatible with the roads of Nepal. It is the same Mustang that is present in the market of USA. It is probably the first muscle car to enter in the Nepali market.
Questions may arise how could Mustang GT not be as expensive as it should be and where have the company cut off in order to minimize the price. According to Suman Regmi, the marketing manager of Ford Nepal, the pricing is one of the major factors that is considered by customers while buying a car. People here in Nepal mostly tend to convert the pricing of the car present in India in order to predict pricing of the vehicle in Nepal. In order to make Ford Mustang GT more affordable for our customers, we directly imported it from the USA and not from India.
Currently, only one Mustang has arrived in Nepal and is already been sold. In a few months, five more Mustang will be arriving in the Nepali market. If you have been thinking to buy Ford Mustang, here's a bad news for you as all the five Mustang which is arriving in upcoming shipment is already booked. However, the good news is that customers can now pre-book Mustang which will be arriving in afterward shipment.
Specification Outline
Ford Mustang is one of the gorgeous cars in Nepali market. Talking about the exterior features of 2018 GT Fastback, AutoLamp Headlamps and LED Headlamps with LED signature lighting. Moreover, it gets LED front park turn lamps and LED fog lamps. Mustang has got decent headlight which provides sporty and eye catchy look from the front view.
Mustang GT also gets a decent design in its rear section which provides an aggressive look to the car from the rear view. 2018 GT Fastback consists of a sequential LED taillamps and a raised blade decklid spoiler which provide fine finishing for the rear section of the car. It also comes with the rear diffuser which increases cornering capabilities of the car.
This slideshow requires JavaScript.
Ford Mustang is surely loaded with a bunch of features when it comes to interior features. It comes with an auto-dimming rearview mirror which provides a decent view of what's happening behind you. Also, Mustang GT is equipped with manual climate control feature which allows its customer to have full control over the temperature of the car.
Ford Mustang GT is powered by 5.0L Ti-VCT V-8 Engine which is capable of producing maximum power of 460HP at 7,000 rpm and 420NM at 4,600 rpm. Mustang GT weights only 1680 kg which allows it to have a huge advantage of power to weight ratio. With these number figures, 2018 GT Fastback is one of the fastest car currently present in Nepali market.
Ford Mustang GT Key Specifications
Engine: 5.0L Ti-VCT V-8 Engine
Displacement: 4951cc
Fuel Type: Petrol
Max Power: 460HP @ 7,000 rpm
Max Torque: 420NM @ 4,600 rpm
Transmission: 6-Speed Manual, standard, 10-speed SelectShift® Automatic Transmission with Paddle Shifters
Seating Capacity: 4 Person
Mileage: 

7 kmpl

Brake: Power 4-Wheel Disc; Anti-Lock System with Traction Control
Kerb Weight: 1680 kg
Ford Mustang GT Price in Nepal:

 Rs. 1,70,00,000

Considering the situation roads in Nepal, many people are concerned with the ground clearance of Ford Mustang GT. During our conversation, we asked about this to Mr. Regmi, and he replied, "Though Ford Mustang has a low ground clearance of 139mm, we didn't face any difficulty while testing it in roads of the valley."

The spare parts of Ford Mustang have not yet arrived in Nepal. Mr. Regmi ensured us that the spare parts of Mustang GT will soon. Furthermore, he provided us with the information that Ford Shelby is soon going to hit the Nepali market.

We will be coming with a few more articles about Ford Mustang in Nepal. So, make sure not to miss any of our posts. Stay tuned!




Featured video from TechLekh

Xiaomi 12 Pro Unboxing & Impressions नेपालीमा