Not long ago, if you suddenly craved a chicken pizza or a plate of Mo:Mo while working late hours in your office, then you had no choice but to go out and fulfill your cravings at a decent restaurant. However, this is the 21st century and in this era time is money. You just might not have the time to go and eat in a good restaurant in the middle of a busy work day. Thankfully, in this age of smartphones and applications, that slow grilled chicken burger with caramelized onions and barbecue sauce topped with fried bacon and a side of fries is just a click away from arriving at your doorstep.
With the heavy influx and involvement of young professionals in the city areas of Nepal, the popularity of online delivery system is at an all-time high. In the context of Nepal, Foodmandu is one of the pioneers that have been successful in delivering food to our doorstep from our desired restaurants with both their free android application and web application.
After using the new upgraded Foodmandu mobile application and playing around with it for a few days, here are my thoughts on it.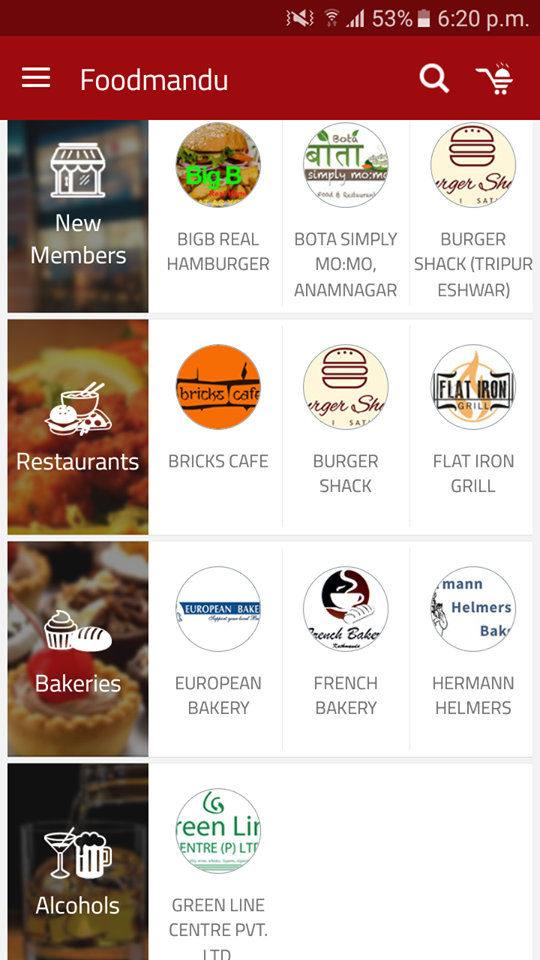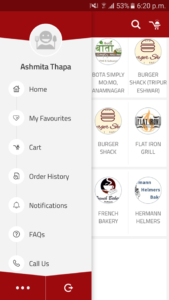 The application itself is very user-friendly and navigating through it is not only easy but also satisfying. The colors are vibrant but not overwhelming which is always great for the aesthetics. All the buttons are really responsive and have related pictures which add a lot more to the user experience. There are about 130+ restaurants to choose from which is a seriously impressive figure. Choosing locations, viewing menu, and ordering foods is very easy.
It sorts out the restaurants and hotels near the user's location. By default, the location is sorted from the nearest to the farthest restaurants from the user's location. However, the user also has the option of sorting alphabetically. It provides the full (in some cases brief) menu along with the NPR (Nepali Rupees) price. We can either search for a particular restaurant or we can search for a particular food item and it lists the restaurants which offer that item. One can add food to the cart directly and check out or call Foodmandu in the contacts provided. You have to pay for the food upon arrival to your location.
Not only that, Foodmandu provides a detailed information about the restaurants, their opening and closing hours and their full locations. So, if you have the time or you just enjoy the ambiance of eating in a restaurant, locating that particular restaurant is made very easy.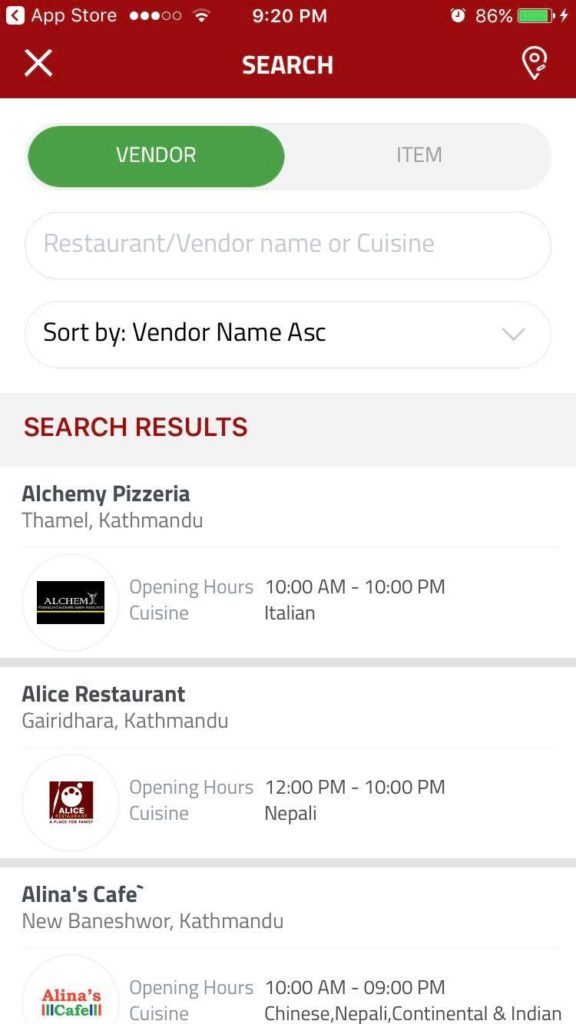 If you are like me and very picky when it comes to food, then you will really appreciate the option of adding a note while placing the order. Personally, I don't like tons of unnecessary toppings on my food, so the ability to add a note saying not to add olives or not to add ketchup in my pizza (Seriously! People argue over pineapple on a pizza when ketchup on pizza is much worse in my opinion) is greatly appreciated. The app allowing the customers to mark restaurants as their favorites is a gem for picky people like me who are a bit hesitant to try new places. I can always go to my favorite list and order out my favorite food.
If there is one little flaw I found, it's that the app is limited to the main cities i.e. Kathmandu, Lalitpur, and Bhaktapur only. However, I'm sure as the company grows, they will expand to more places in Nepal. Another suggestion I would give is to add a feature to rate restaurants. There are many restaurants in the cities who offer almost the same menu at the same prices, so rating the restaurants would've been a terrific addition. Other than that, I really didn't find much to complain about in the application which is a pleasant surprise.
To conclude, for people who always want to try new things, the application provides a large collection of restaurants in the Kathmandu valley with over a 1000 food item choices to choose from. The application itself is really well made and very responsive. I would highly recommend any avid foodie to try it out and support them so that they can grow even more and add more features to the app, which only means one thing — we can enjoy more delicacies with convenience ;).
Download the new and improved Foodmandu mobile app: Android | iOS.
What do you think of the mobile app? Let us know by sharing your thoughts down in the comments below.