If I'm honest, Extreme E sounds like a big-budget blockbuster movie hitting screens next summer. However, that's no the case. Instead, it is an auto racing event that uses only electric vehicles over the fuel-driven ones.
Since the event has been set to debut on February 2021, there were some rumors that it might even come to Nepal. Apparently, that is happening! According to the latest reports, Extreme E is hosting Five Events across the globe! Among those five locations, Mustang District is the fourth location.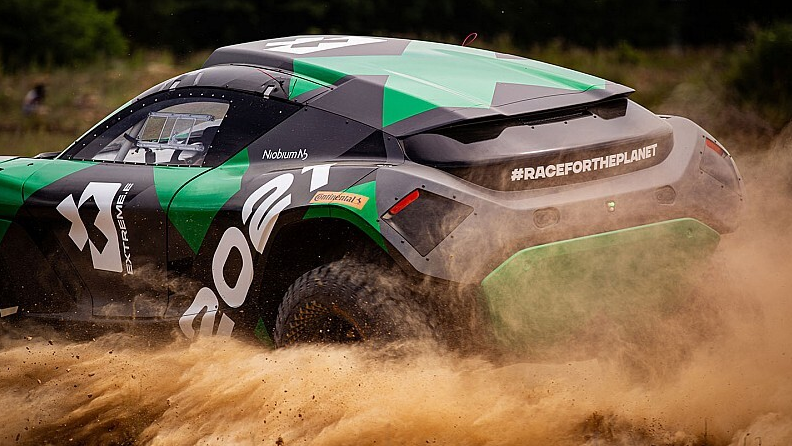 XR's Odyssey 21, a the prototype for the event, is being tested. Furthermore, it is an all-electric SUV, unveiled at Goodwood Festival of Speed. Yes, that's the exact car that did 0 to 100 km/h in just 4.5 seconds!
The event will highlight environment preservation and climate change.
Extreme E in Nepal!
Alejandro Agag, Founder / CEO of Extreme E, made the announcement alongside Yogesh Bhattarai, Nepal's Minister for Tourism.
XE CEO Alejandro Agag said, "The Himalayan region is a spectacular, unique environment with incredible terrain for off-road racing, which will provide the sternest of tests to the world's leading drivers, engineers, and teams. We are literally in the heart of the mountains here… it is a beautiful place.
"We're going to bring this fantastic show, this great race, to a place where there's never been a race. We will leave a positive legacy behind, working with the government and authorities that will help locals here and provide solutions for the region to make it more sustainable. This is a big step with big meaning – not only for the race but in everything we will leave in place for the communities here."
Moreover, Yogesh Bhattarai followed with his own statements, "We are extremely excited to welcome Extreme E to Nepal. The country has a unique natural and cultural diversity and harbors a number of instantly recognizable world landmarks such as Mount Everest – the tallest peak on Earth – and Lumbini – the birthplace of Buddha."
"We are confident that hosting this international series will serve to further our global appeal whilst being able to also shine an important spotlight on the climate issues which face our region and their solutions. Nepal is an exotic destination full of national treasures. Driving through our magnificent scenery with Extreme E's pioneering electric SUVs will be a once-in-a-lifetime experience for the competitors, adventure enthusiasts and the fans watching on. The message is inspiring and it will be some spectacle!"