Daraz, Nepal's biggest online marketplace, and an Alibaba Group subsidiary, officially announced its annual sale campaign — Daraz 11.11 2022. This is the fifth edition of the sale.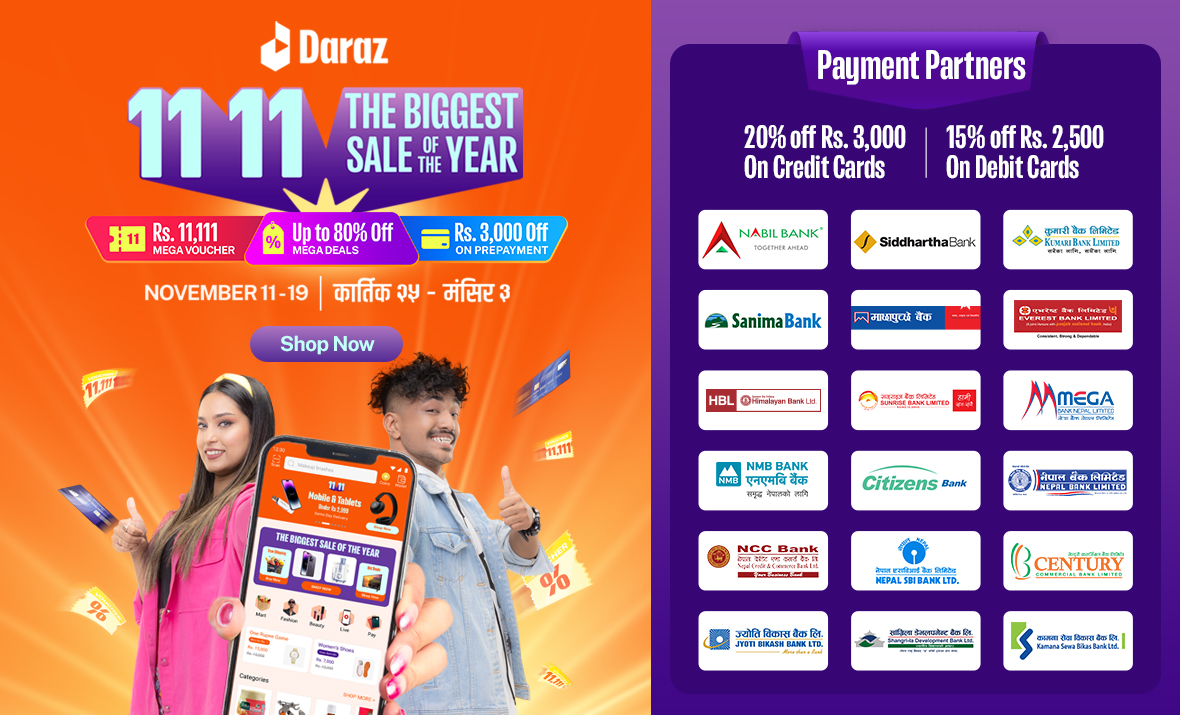 Unlike last year, when the sale would end within 24 hours, Daraz 11.11 2022 sale will begin on November 11 (Kartik 25) and end on November 19. The sale will offer discounts of up to 80% on over 11 lakh products.
Daraz is also giving away 11 65-inch Mi TVs to customers who pay with prepayment options and spend over Rs. 3,000.
Daraz has always offered bank and prepayment discounts during its campaigns. For this sale as well, Daraz has partnered with 18 leading banks to provide discounts worth 20% (Max Rs. 3,000) via Debit/Credit card prepayment.
During the Daraz 11.11 2022 campaign, customers of the partnered banks can get discounts of up to 15% (Max Rs. 2,500) via debit card and up to 20% (Max Rs. 3000) via credit card. Customers are required to activate their bank cards for e-commerce transactions. The bank partners for the Daraz 11.11 campaign are as follows:
Nabil Bank
Kumari Bank
Sanima Bank
Machhapuchchhre Bank Limited
Everest Bank
Sunrise Bank
Mega Bank
NMB Bank
Citizens Bank
Nepal Bank
NCC Bank
Nepal SBI Bank
Century Bank
Jyoti Bikash Bank
Shangrila Bank
Siddhartha Bank
Himalayan Bank
Kamana Sewa Bank
Daraz says the aforementioned prepayment discounts will only be live for a limited period of time during the campaign as per the company.
READ NEXT: Rohit Tiwari, CEO of Hamrobazar talks about the New Version Update & Future Plans