When it comes to taking your product to the market and raising money or capital with a potential investor, a pitch deck plays an imperative role for any startup. A pitch deck not only helps investors understand your business or identify the scope but also helps them decide whether or not to pursue the investment opportunity.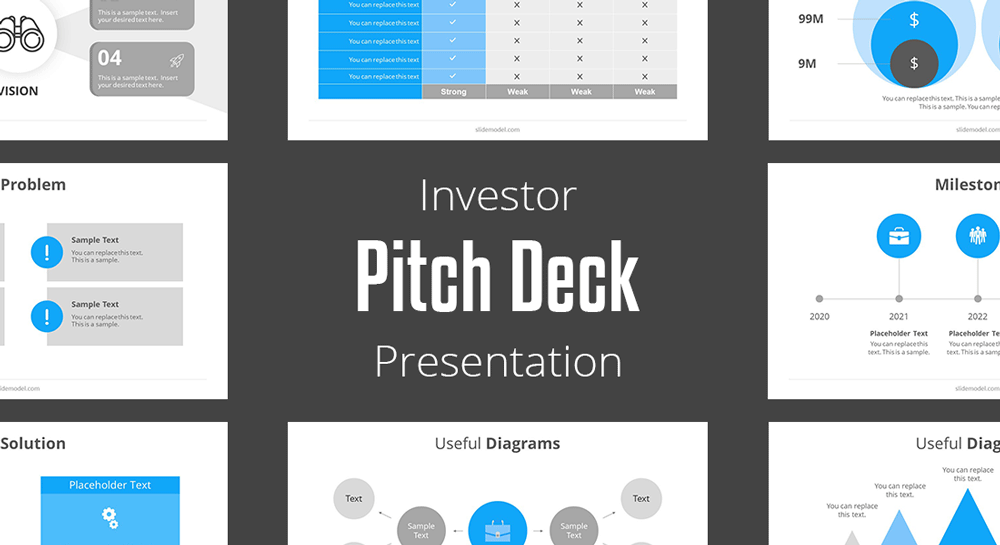 Hence, there is no denying that an ideal pitch deck can draw a line between an investment opportunity that is secured or missed. In this post, we will talk about how you can craft a solid pitch deck of value for your investors and close more deals than ever.
Pick a Template
One of the primary steps in creating a captivating pitch deck for your potential investors is using a professional-looking and intuitive PowerPoint template. As a presenter, the right readymade investor template can help you get your hands on state-of-the-art slide design, superior layouts, 3D diagrams, and expressive typography. Not just that, these templates are fully customizable as well. Hence, presenters can leverage the 100% customization, easily edit the layouts & design patterns, and further e data-driven graphics to boost the efficacy and engagement of their presentation.
Not just that, by using an editable template, you can also incorporate your company's branding guidelines and create a deck that resonates better with your brand and hence, the audience. Moreover, customization boosts presentation integrity and helps you establish trust with your audience. Presenters must recognize that the investor template can help you focus on crafting quality content rather than worrying about slide design or visuals. If done right, you can build a deck that sells itself and pitches to investors, venture capitalists, and evangelists, like never before!
Include the Essentials
Your pitch deck should provide a holistic view of the problem you're trying to solve, and your proposed solution while highlighting various aspects of your startup. For an ideal pitch deck, the following elements are the must-have:
Introduction
Problem & Solution
Target Market
Market Size
Business Model
Competition
Go-to-Market Plan
Marketing & Sales Strategy
Your Team
We all have heard that one size doesn't fit all. This is true for the pitch decks as well. An ideal pitch deck provides a birds' eye view of the above areas to the investor. However, it can also vary depending upon your audience, as well as the presentation setting.
Storyline the Presentation
Storytelling your presentation is one of the most amazing and effective ways to pitch to potential investors. Whether you're taking your new product to market, presenting it to evangelists or investors for seeding, or raising money in a crowdfunding event, the storyline creates that needed emotional link between your investors and business. The key is to keep it real with an authentic story where investors can see right through your business or solution, see your authenticity and build trust for a lasting relationship.
Your story should answer important questions such as:
Why should investors care?
Why should investors believe in your idea?
Why should they come aboard with you?
Presenters must note that storytelling only works if it's embedded with your pitch deck. In times like today where the number of startups emerging is massive, not every startup is able to convince the sharks. If presenters can take data and storytelling hand in hand, it can open doors to some serious funding for startups.
Visualize the Data
According to a report by the National Small Business Association, a mere 15% of small businesses and startups are successful in securing loans from banks and individual investors. One of the biggest challenges that every company or early-age startup faces is pitching to investors, that too in a highly competitive landscape. When time is of the essence, getting your idea and eventually the slide deck stands out from the crowd is critical for business success. This is where data visualization comes into the arena.
With effective data visualization, presenters can turn a presentation into a memorable experience for the investors by telling their story, transforming complex information into compelling data-driven figures, projecting ongoing and upcoming trends, showcasing timelines, financials, and much more. Presenters can include captivating data visualizations into the slide deck, such as Heatmaps, Treemaps, Scatterplots, Gauges, 3D charts, multidimensional views, etc. The goal is to communicate data such that it's easy for investors to understand and get motivated by your call to action.
The End Line
Often presenters jump on to creating a presentation without emphasizing greatly on content and design. One should note that an ideal pitch deck should be legible, simple, and obvious! A data-driven yet minimalistic pitch deck can enable investors to easily & quickly understand your USP (unique selling proposition) and encourage them to connect with you afterward.