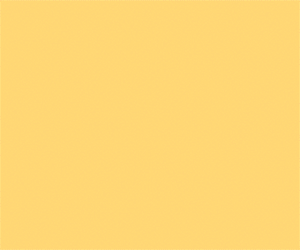 Cheers is currently one and only online liquor store in Nepal. Situated in Kamaladi, the company started in July 7, 2016. It has over 500 products including beverages, mixes, and tobacco along with different types of liquor such as vodka, wine, and whiskey along with many others.
Cheers aims to provide a solution to all liquor needs of its customers. Not only does it provide different types of liquor, it also provides soft drinks, juice and water under beverages and ice cubes, honey and syrup under mixers. It is open from 10 am to 10 pm, all year round. Currently, it also has a mobile app under development.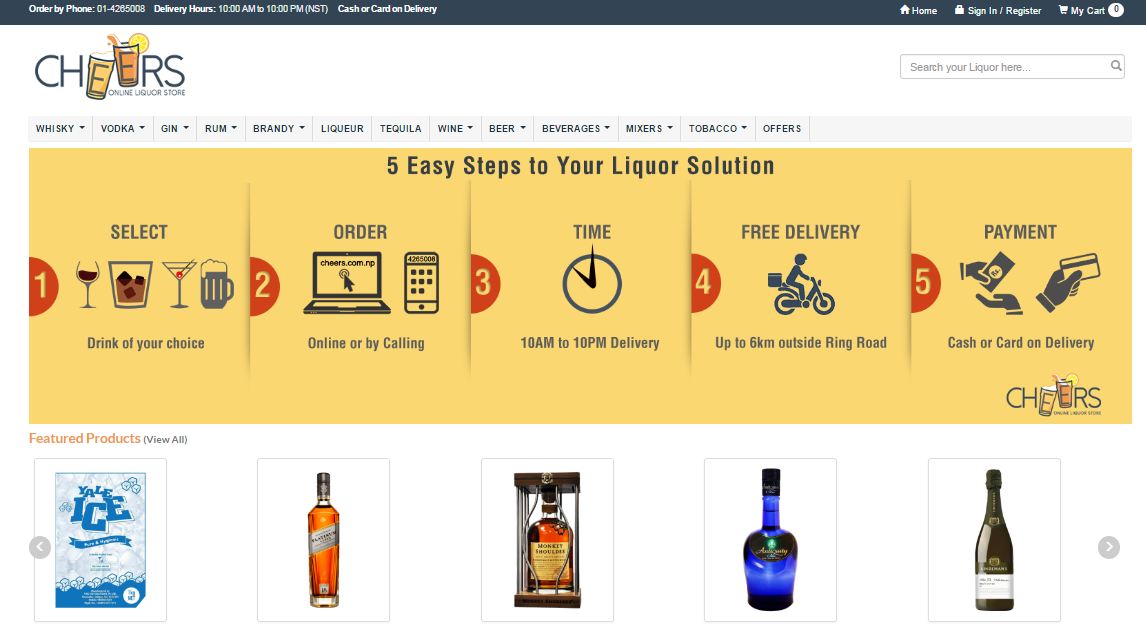 Finding the idea of an online liquor store for Nepal very interesting, TechLekh (TL) sought to interview the team at Cheers. Following is the interview with the General Manager of Cheers, Mr. Minesh Rajbhandari: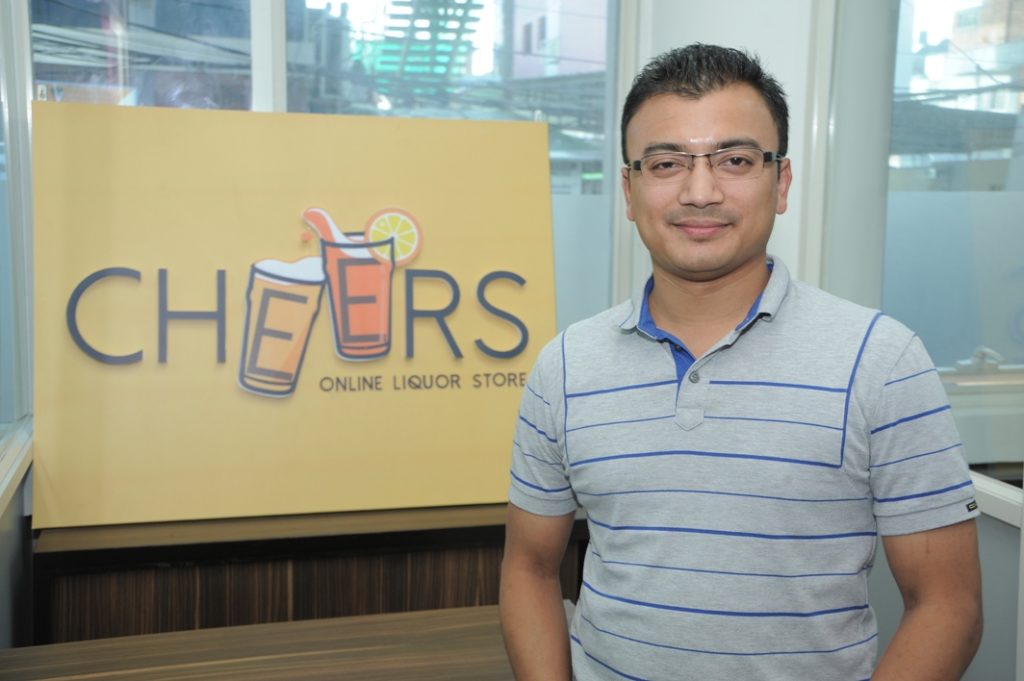 TL. How did the company begin? How did you come up with the idea of an online liquor store in Nepal? Also, why liquor?
A: The company began with the idea of tapping into the growing trend of online shopping in Nepal, and with a product that no other online companies have penetrated – liquor.
The idea of our online liquor store is to provide our customers with a wide selection of domestic and international brands of liquor, beverages, juices, cigarettes, ice cubes, etc. under one single platform. Since liquor is something that you need instantly (not after 2-3 days), we deliver our goods within 45 minutes, or as specified by our customer. To make this happen, we stock all our goods in our warehouse as we can't risk wasting time going to a local store and buying, and then delivering. Moreover, our service is until 10 PM, and very few shops open this late. We have our own team of delivery persons and vehicles to further ensure getting the drinks delivered on time.
Liquor is something that is highly standardized, meaning that a bottle of Chivas will be a bottle of Chivas no matter which corner of the world you buy. This doesn't require touch-and-feel before buying, like for other items such as clothes, shoes, or to some extent even electronic gadgets. Moreover, a majority of the consumers already have their own choices, meaning they already know what they want to drink. They do not experiment with the new products as it happens in clothes or electronic gadgets.
However, we are neither trying to solve any problems nor trying to eradicate the existing traditional physical stores. Our only objective is to give yet another platform and thereby set a new trend, whereby if the buyers feel the hassle to go to a store and buy, they may buy at Cheers and that to confidentially.
See: From Thailand to Ncell App Camp – Story of Thingsle
TL. How many people do you have on the team? With how many did you start?
A: We have a total of 19 staffs, with six people dedicated for delivery tasks. We started with this number and are maintaining the same at the moment.
TL. How do liquor and ice get delivered?
A: For just a couple of bottles, we deliver in a backpack, large and safe enough to fit 4-5 bottles. However, for larger orders such as a case of beer, we have introduced special delivery boxes fitted behind the bikes, so that the bottles are transported safely.
Inside each delivery box, there is another specifically tailored Thermocool box, which serves both as further safety and insulation. This ensures that beer remains chilled and ice cubes remain intact until the delivery.
TL. What are the difficulties in a business such as this one?
A: One major problem is that online shopping trend is just picking up in Nepal. Though many people have already started adopting this service, there is a larger chunk of people who still like to visit shops one-by-one (and bargain) to buy their desired product. Also, people don't have easy access to the internet all the time (or that it is too expensive for a normal person), without which online shopping isn't really possible. Changing our consumer's buying behavior is the major challenge.
Another difficulty, especially for liquor business, is the ease of availability. There are many liquor shops, big or small, spread at almost each alley in Kathmandu. So we are, in a way, asking our customers to buy products that are already easily available. With so many local liquor stores, price fluctuation is extremely visible, which makes consumers pay different prices for the same product. However, the difference in buying from Cheers, apart from convenience, is that all our products are marked in market price. Customers don't have to pay anything extra, and all our products are guaranteed genuine, as we procure all our stocks directly from the principal importers or authorized distributors only.
Other difficulties, I guess, pertinent to all online/delivery business, are the traffic jam conditions, which largely affect the delivery time, and of course the unprecedented strikes and road blockades.
Also Read: Mr. Cake Nepal Sells 263 'Scrumptious' Cakes in Just Two Months [Startups]
TL. What are your future plans?
A: Our future plans will always be to deliver the goods right on time, no matter how large the number of orders grows. To make this possible, we plan to open smaller branches/outlets in areas where our customer numbers grow. The customer will still use the same online platform to order. But based on location, they will be served from the nearest outlet, but oblivious to the customer.
We further plan to go ahead extending our service all over Nepal. We are already getting a number of queries from customers of major cities outside Kathmandu as to when our service will start there as well.
Cheers has the advantage of being the only online liquor store in Nepal. We hope it can take the best use of this advantage. It has a good website and already has many satisfied customers. We, at Techlekh, hope the best for the company.
To orders from Cheers, click the link below:
Hotline: 01-4265008