The government launched a pilot project of the central billing monitoring system on November 17. It is now ready to carry out a full-fledged implementation of the system by the end of the fiscal year according to The Kathmandu Post.
The monitoring system will link taxpayers to the IRD's (Inland Revenue Department ) computers. This will allow the IRD system to keep track of transactions in real time. It records the sales of the businesses instantly and allows the IRD to charge taxes accordingly. This will prevent businesses from avoiding paying taxes.
The IRD said that it has planned to connect more than 600 businesses to its system by the end of this fiscal year. IRD Deputy Director General Yagya Prasad Dhungel said, "We will soon issue a directive providing a reasonable timeframe for taxpayers to upgrade their software."
Currently, most large taxpayers are using a computerized billing system approved by the department. These taxpayers include well-known department stores, authorized dealers of automobiles, large factories and corporate houses.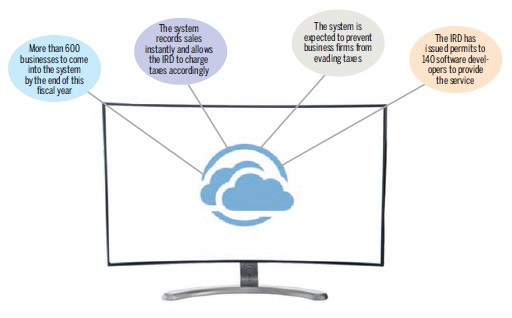 All business firms will have to install a software that will connect their billing system to the IRD's computers. To ensure the setup necessary, the IRD has issued permits to 140 software developers. These developers will perform the necessary setups by installing a device and adding a specific field in their computer systems.
The firms that are using software approved by IRD have been notified to initiate the process of customising their software to link up with the IRD's system.
According to Dhungel, the department plans to include other taxpayers who are using a manual billing system in the second phase. These taxpayers will need to upgrade their point of sale terminals, install new software which will be provided by the department or add a separate field in the Integrated Tax System. He added that the IRD is yet to decide on the modality of bringing these taxpayers within the central billing monitoring system.
There are a total of 1.6 million taxpayers registered with IRD. Out of them, 184,000 are registered for VAT. IRD said that 900,000 business firms fall below the VAT threshold while more than 600,000 individual taxpayers have received permanent account numbers.
IRD, from September to October, booked 615 firms for not paying taxes. It also collected Rs. 3.84 million in fines. This new system will put a stop to businesses evading taxes.