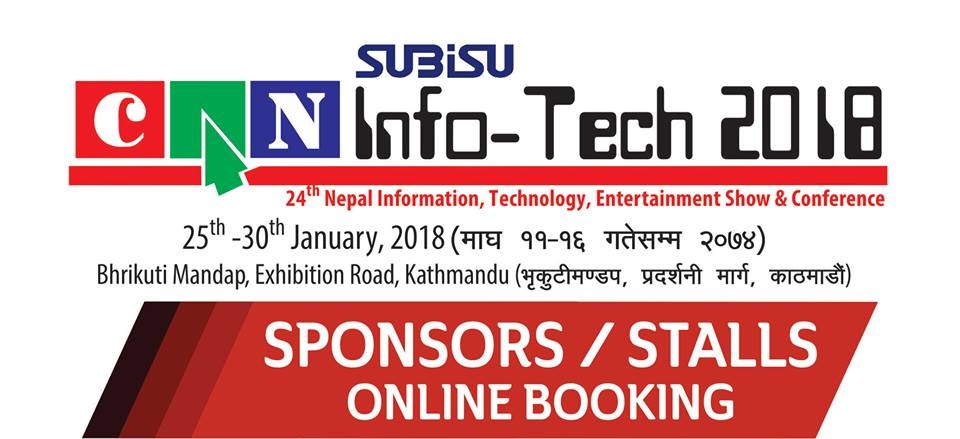 CAN Info-Tech 2018, the annual major information technology expo concluded Tuesday with much fanfare.
Details:
The 24th edition of the expo started from January 25 and lasted six days till January 30. Just like every year, this year too, it was held in Bhrikuti Mandap, Kathmandu.
It had stalls of stalls of Internet Service Provider (ISP) companies, smart phones, laptops, software, photocopy printers, routers, and IT colleges and training institutes, all of which drew visitors in droves. Products such as CCTV, anti-virus programmes, mobile-wallet, projector, and digital television were also on display.
This slideshow requires JavaScript.
By the numbers:
The expo saw over 376,000 visitors, with the last day drawing over 94,000 people.
The event had 222 stalls, with 49 big stalls inside the main hall and five branding exhibition stalls. 144 stalls were hosted in trusses, 14 stalls were hosted in open spaces and 10 were maintained as food stalls.
The expo also hosted a separate space for 44 stalls especially for software companies.
In Conclusion:
The event was well managed and it got close to its target of having 400,000 visitors. Stalls saw a huge amount of visitors while visitors got to see a lot of new things, gain insights on tech, get attractive offers and win prizes.
---
Editors Recommendations
Read all latest tech news on TechLekh. Stay updated!