EvoStore has launched Bose QuietComfort Earbuds in Nepal. Bose had announced the new QuietComfort Earbuds back in September.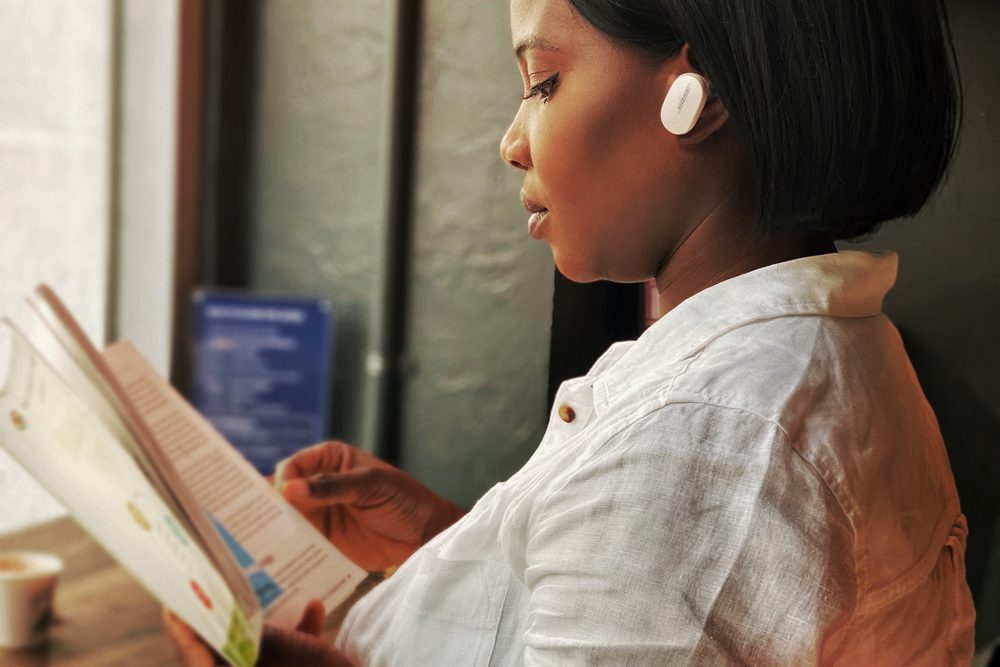 Bose Quietcomfort Earbuds price in Nepal is Rs. 42,500. It comes in two colors: Black and Soapstone. It is available via EvoStore.
Bose QuietComfort Earbuds offers 11 levels of noise cancellation and it is going up against the likes of Apple Airpods Pro and Sony's 1000XM3.
So, let's see what it has to offer!
Bose QuietComfort Earbuds Specifications
Body: 1.54″ H x 1.02″ W x 1.06″ D (8gm each)
Bluetooth® Version: 5.1, Up to 30 ft (9.144 m), SBC and AAC
Battery Capacity: Up to 6 hours playback with a single charge, Total 18 hours playback with battery case, 2 hours charge in 15 mins quick charge
Charging Port: USB Type-C Charging
Colors: Black/SoapStone
Bose QuietComfort Earbuds Price in Nepal: Rs. 42,500
Bose QuietComfort Earbuds Overview
Design
Bose's earbuds stand out and look completely unique. Each earbud is slightly over an inch long and weighs 8 gms. Bose has redesigned the ear tips with more of an oval shape which is supposed to provide a better seal.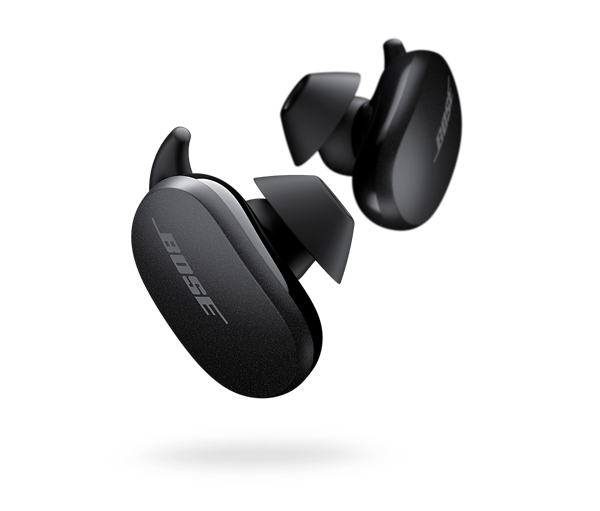 Bose is also calling it the StayHear Max tip design. Bose mentions that every surface that touches the ear is made of soft silicone and not hard plastic. This will make the earbuds comfortable to wear throughout the day. It comes with an IPX4 rating as well.
The case has a USB Type C charging and has an LED indicator for battery level.
ALSO READ: Honor Choice True Wireless Earbuds Launched in Nepal
Sound
As for sound quality, Bose says the QuietComfort Earbuds avoid boosting any particular frequencies and provides faithful and accurate sound reproduction. Though the company claims the bass is rich and strong at any volume.
They utilize volume-optimized Active EQ technology which automatically boosts the lows and highs so the music, videos, and voices you're listening to remain consistently balanced — even as you change the volume.
Noise Cancellation
Bose claims that the QuietComfort Earbuds are the world's most effective noise-canceling earbuds.
It has Passive Noise Cancellation as well as Active Noise Cancelling. A soft ear nozzle is designed to conform completely to the contours of your ear, creating a gentle seal.
Internal and external microphones monitor sounds in your environment and in your ear canal and — in a fraction of a millisecond — produce an opposite signal to cancel out unwanted noise. All that's left is what you want to hear. You can choose from 11 different levels of nice cancellation. You can go from full muting the outside noise to complete transparency. This is quite rare for a TWS.
ALSO READ: Oppo Enco W51 with Active Noise Cancellation Launched in Nepal
Controls
Bose QuietComfort Earbuds come with touch controls.
Double Tap on right to play pause or answer or end a call
Press and hold on right to access voice assistant or decline an incoming call
Double-tap on left to cycle through 3 favorite levels of noise cancellation
Press and hold on the left to access shortcut which can be set up in the Bose Music app
Connection
Bose QuietComfort uses Bluetooth 5.1 with a standard range of 10m. Bose claims that the earbuds will provide a strong and consistent connection as long as you're within 30 feet of the paired device.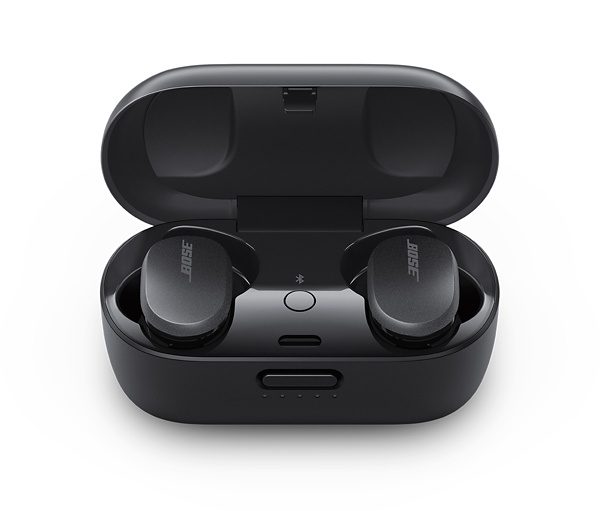 You can use the Bose Music app to customize noise cancellation favorites, manage Bluetooth connections, set a shortcut, and much more.
These buds feature microsensors that detect if you're wearing them or not. The instant you take one out, your music, podcast, or video automatically pauses so you don't miss a second.
As for codecs, it uses SBC and AAC.
Battery
Bose QuietComfort Earbuds provide a battery life of up to 6 hours with a single charge and the case allows for additional 2 full charges. So, it totals 18 hours of total playback time.
It also has a quick charge which provides 2 hours of battery life in just 15 mins. And when it's your case's turn to be recharged, you can choose between the included USB-C cable or any Qi-certified wireless charging mat (not included). The charging case takes 3 hours for a full charge.
Bose QuietComfort Earbuds Price in Nepal and Availability
Bose QuietComfort Earbuds price in Nepal is Rs. 42500. It is now available in two colors: Black and SoapStone via EvoStore.
Bose QuietComfort Earbud is a top of the line TWS that provides ultra-premium sound quality and has 11 levels of noise cancellation feature. It has more than enough battery life with quick charge support and Qi-wireless support.
Furthermore, you can customize control via its app. However, it has a pretty hefty price tag and doesn't support aptX or Multipoint.
What do you think of the Bose QuietComfort Earbuds? Let us know in the comments below!
---
Also, watch our Accurate AT-01 review in Nepali.