AppKosh is a directory of Nepali (Android) mobile apps. You can use it to discover the sorts of mobile apps that our Nepali developers have developed so far. It is a product of Semantic Creation. In their own words: With AppKosh, we are trying to promote and encourage Nepali developers by making Nepali apps more visible and accessible to all the related users inland and abroad by creating a specialized search engine platform for Nepali apps. This mobile and web application will act as a directory to all Nepali apps.
I had learned about AppKosh some time ago, and it has changed much since my last visit. For one, the interface now looks better than what it was before. And further, if I am not mistaken, it allowed users to submit their app independent of whether it was listed on Google Play Store already (See update below). But now, it seems to list only those apps that are available on Play Store. If you are a developer, you can suggest your application to have it listed on the AppKosh application / website.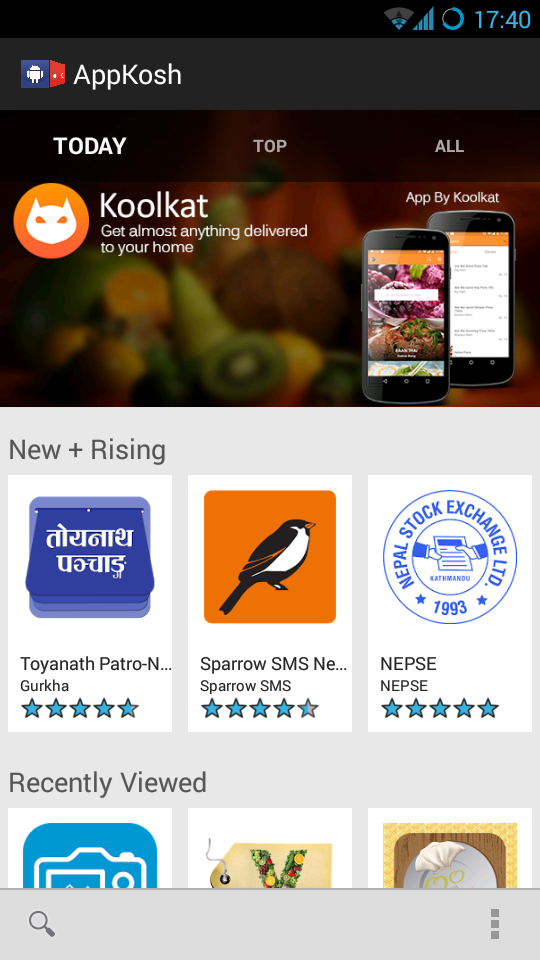 AppKosh currently lists about 500+ Nepal made mobile applications and it will only continue to grow with the growth in the number of startups and mobile developers in our country. It has helped provide a platform for developers and audiences alike to promote and discover Nepali mobile apps.
With just Play Store, we'd have a hard time figuring out what new app is in town without reading a promotional piece in newspapers or online magazines. Of course one still needs a promotional piece to further improve the chances of reaching to the target audience, but having the app listed on AppKosh gets the app some free promotion as well (which frankly, never hurts). And as an user, you don't need to depend on magazines to learn about new apps, as you can venture out onto the realms on your own: just browse AppKosh either on your web browser or mobile phone. In fact, I myself, learned about a few interesting apps from AppKosh while writing this review.
Getting down to its nitty-gritty, it'd be better if the suggest app link was viewable/accessible to the users on AppKosh's home page, and not buried deep inside the pages. One of the featured apps, which I installed after finding interesting, was severely bugged which sort of defeats the purpose of having a featured list. Its not a fault of AppKosh per se, since what it provides is what Google Play provides – a directory listing of applications. And you can obviously find bugged apps on Play Store. So what's the problem here?
The problem is, a featured list is in itself a kind of a non-personalized recommender; AppKosh is recommending a product to you. And if you are recommending something, and it turns out to be bug ridden to the point of not being usable, I may not think very highly of you (i.e. the recommender). If something is featured, I'd automatically assume it to be free of such simple issues like choppy scrolling (which is the result of a poorly executed / tested Phonegap app). So, if the featured list is something done manually (sponsored or just recommendation out of appreciation), and not based on most popular or most viewed or such rankings then I suggest the team to thoroughly screen the apps before featuring them. I also noticed that clicking on SnapWall app's listing led to an Item Not Found error on play store. So it seems, there are things that could definitely be improved on.
All in all, it is one great platform for end users to research about Nepali mobile apps, and for developers, to get some free promotion.
Visit AppKosh website to find some Nepali mobile apps or to download it to your mobile phone.
Update: We reached out to the AppKosh team, and they mentioned that AppKosh has only listed apps in the Google Play since the beginning. They also said that all featured apps are tested in two Android releases: Jellybean and Lollipop. However, I tested the app in a JB, and the app had choppy scrolling, which could only mean one thing: device specific issue. And it is pretty common since it is a phonegap made mobile app.  Also, according to the team, the databases are updated regularly (if not daily).