Pros
Lightweight and sleek design
Good performance
Long battery life
Good keyboard and trackpad
Ethernet port
Good price-to-performance ratio
Con
No fingerprint sensor
No backlit keyboard
Average display
The Acer Aspire 5 series is one of the most popular budget laptops, not just in Nepal but around the world. And the Acer Aspire 5 2021 is no exception.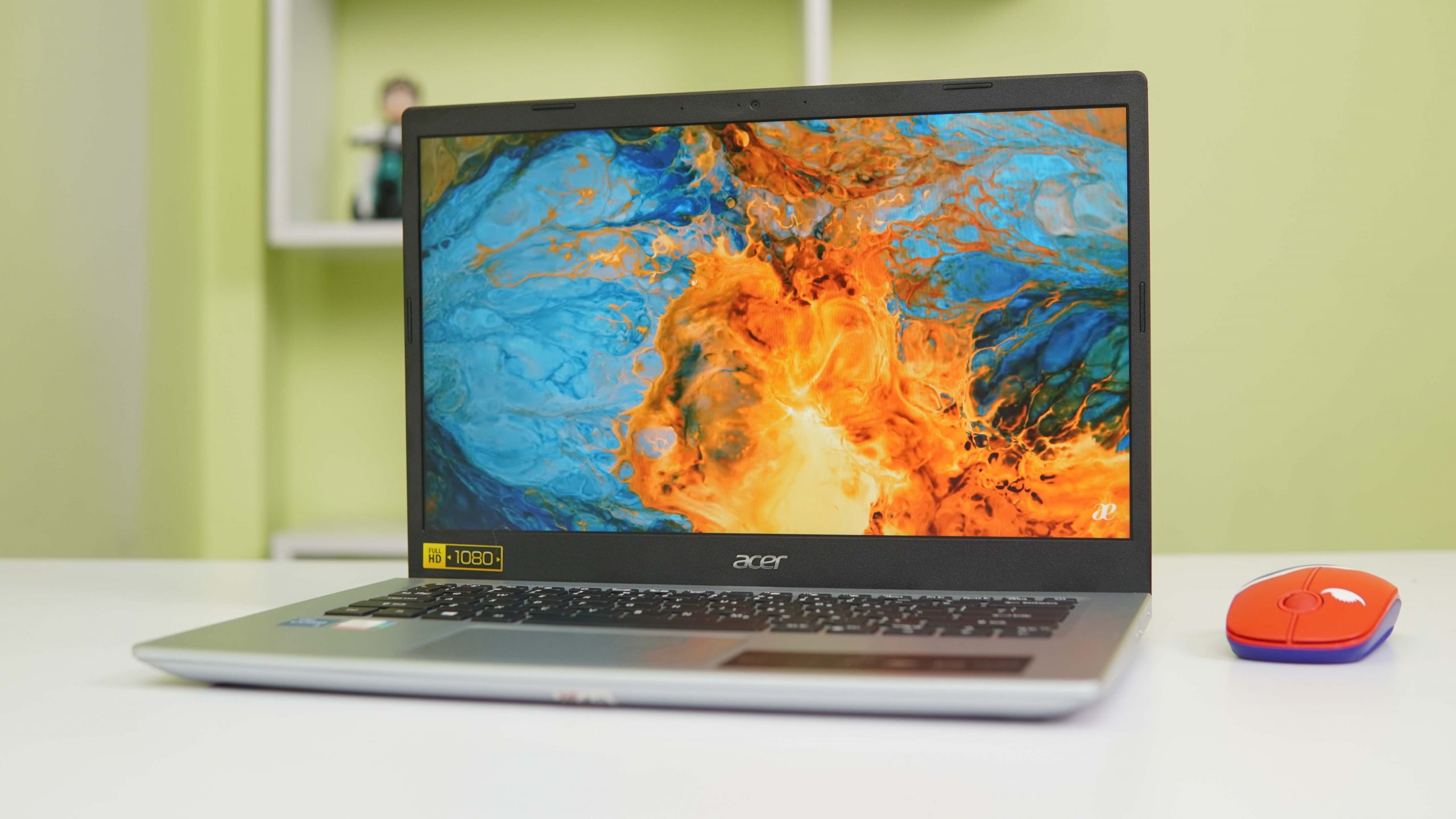 The Acer Aspire 5 price in Nepal is Rs. 77,990 (Intel Core i5-1135G7, 8/256GB). The model number of this laptop is A514-54-501Z. If you want the laptop with 512GB SSD, it will cost Rs. 82,900.
You can find this particular laptop at Infotechs Nepal. Infotechs Nepal is one of our partners for laptop-related content. Click here to buy Acer Aspire 5 2021.
When talking about budget gaming laptops, the name Acer Aspire 5 has always been a top choice for many budget users for a very long time. Even today, when it comes to choosing the best budget laptop, the discussion is not complete without the mention of the Acer Aspire 5.
It is even listed on the list of the best laptops under 90000 in Nepal. But why is the Acer Aspire 5 so popular among budget users? We are going to find out in this Acer Aspire 5 review.
If reading is not your thing, you can also watch our review video of the Acer Aspire 5 2021 in Nepali.
Note: There are different variants of Acer Aspire 5 in the market. The model we are reviewing has model number A514-54-501Z. Other variants may have different specifications. For example, they may have a backlit keyboard, fingerprint sensor, dedicated graphics card, and/or 15-inch screen.
Acer Aspire 5 2021 (A514-54-501Z) Specifications
Body: 327.66 x 223.52 x 18 mm, 1.45 kg
Display: 14 inches, IPS, FHD, 1920 x 1080 pixels, 16:9
CPU: Intel Core i5-1135G7 (4 cores, 8 threads, 2.4GHz base, 8MB)
GPU: Intel Xe Graphics
RAM: 8GB, 1x SO-DIMM slots
Storage: 256GB SSD, 1x M.2 PCIe Gen 3×4 slot
OS: Windows 10
Connectivity: Wi-Fi 6 (IEEE 802.11ax), Bluetooth 5.0
Ports: 2x USB 3.2 Gen 1 Type-A, 1x USB 2.0, 1x Type 3.2 Gen 1 Type-C, 1x HDMI, 1x RJ45, 1x 3.5mm headset Jack
Battery: 3-Cell, 53Wh Battery, 65W AC Adapter
Keyboard: No backlight keyboard (some variants feature a backlit keyboard)
Webcam: 720p HD webcam
Audio: 2x stereo speakers
Fingerprint: No (some variants have)
Acer Aspire 5 Price in Nepal: Rs. 77,990 (8GB, 256GB)
Acer Aspire 5 2021 Review
Design
327.66 mm x 223.52 mm x 18 mm
1.45 kg
Starting with the design, the Acer Aspire 5 2021 is not that heavy, weighing around 1.45kg. There are lighter laptops available on the market, but this one is also easy to carry in a backpack. For the build, the laptop is mostly built of plastic, except for the top lid.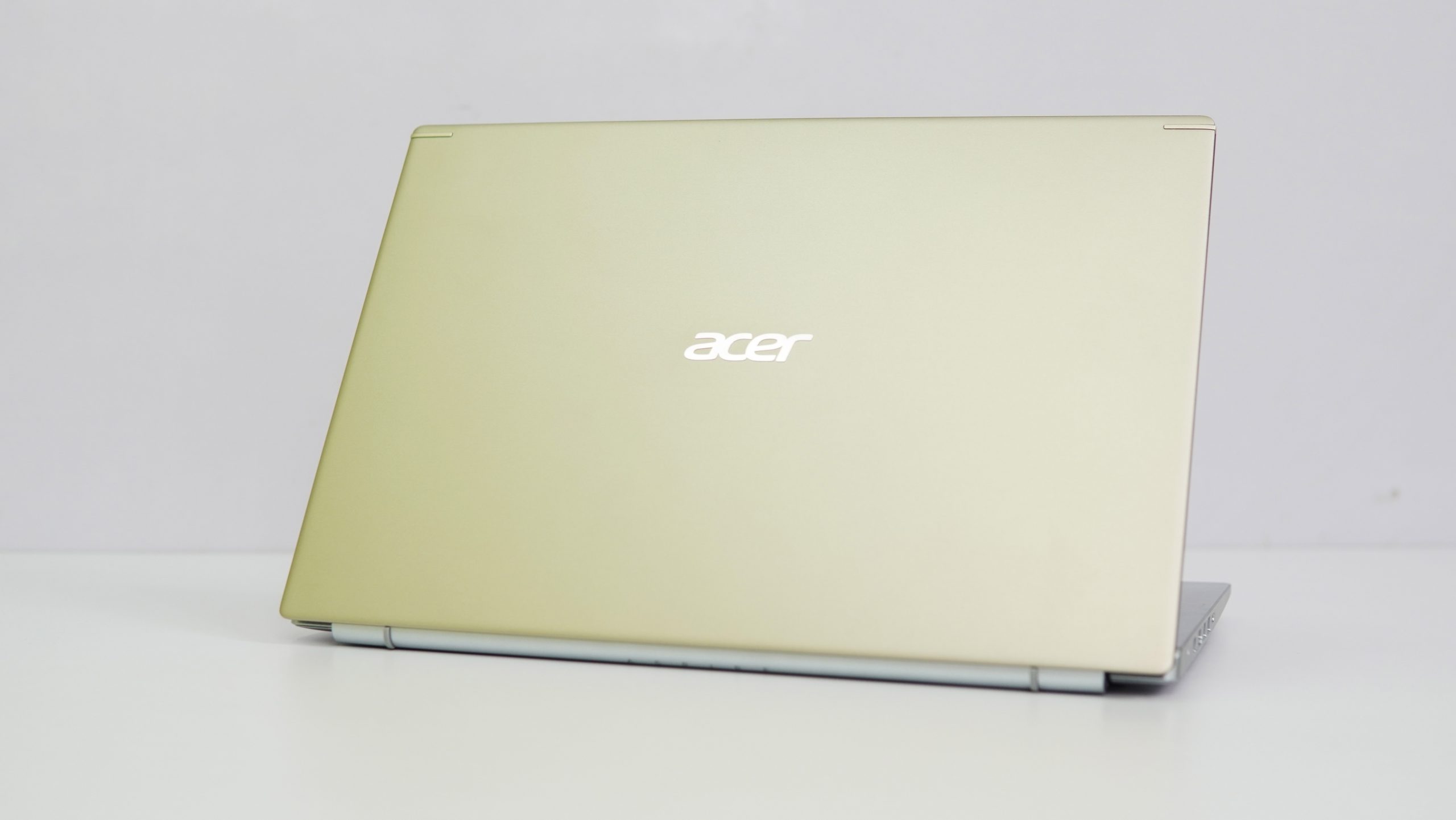 The laptop is compact and lightweight, making it easy to carry in a backpack.
The top lid has an aluminium finish with the embossed Acer branding in the middle, which I find sleek and modern. The rest of the laptops, including the palm rest and the bottom panel, are plastic. But the overall build of the laptop feels durable, with minimal body and screen flex.
Sadly, the lid of the laptop is not one hand openable. You always need to use two hands to open the laptop, which can be annoying at times, but this is a budget laptop, so it's passable. When you open the lid, the laptop slightly lifts at an angle, which improves airflow for cooling and somewhat makes typing comfortable.
The lid is sturdy enough and does not wobble much. But I wish the lid had gone a bit further as it was a bit uncomfortable for me when I sometimes quickly want to use the laptop on the table while standing up.
Moving on, for cooling, the laptop pulls cool air from the bottom and expels hot air through the exhaust vent beneath the screen. This results in hot air hitting the bottom bezel of the screen, causing the bezel to become a little warm, but I didn't find it to be that bothersome.
Keyboard and Trackpad
No backlight
No numeric keypad
Microsoft Precision touchpad drivers
I have the laptop in silver, on which the keys are black. There are some models of Acer Aspire 5 that support a backlit keyboard, but unfortunately, our unit does not support it.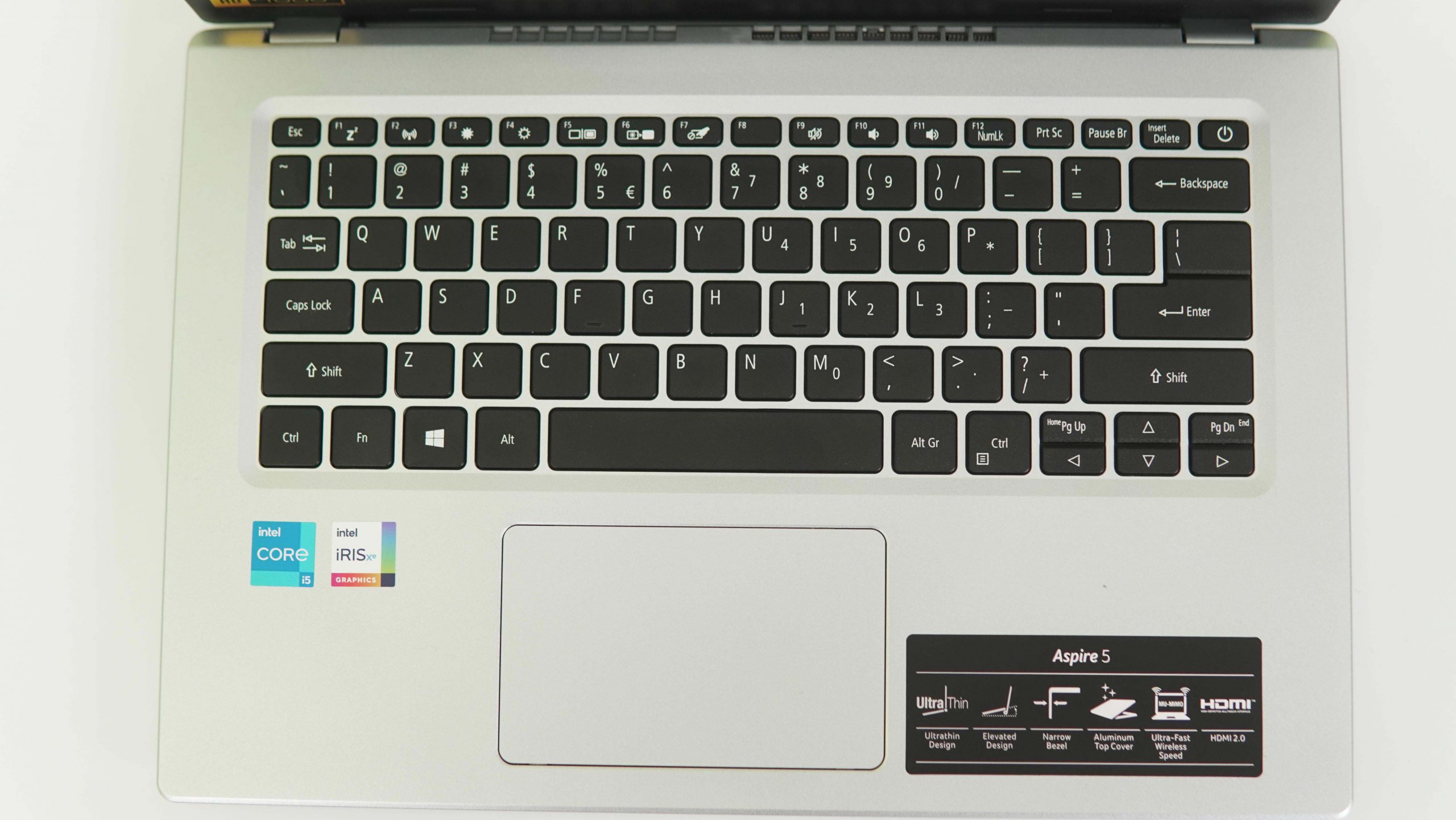 Other than that, there are two other things about this keyboard that bother me. One is that there is a button next to the Delete and Backspace keys that serves as a power button.
There were multiple occasions when I accidentally pressed the power button in the middle of typing when trying to hit the delete or backspace keys. That was frustrating. I would have preferred the power button to be separate from the keys.
The arrow keys are the second bothersome aspect. Because the left and right arrows are so small and close to the Page Up and Page Down keys, I have repeatedly accidentally pressed the Page Up and Page Down keys when trying to press the left and right arrow keys. This is especially annoying when I'm in the middle of a spreadsheet.
As for the typing goes, the keys are well spaced out and the keys have decent key travel. I quickly got used to it and found it comfortable to type on.
There is also no fingerprint sensor on this particular model. Although other models come with it.
This is a 14″ model, so it also does not have a numeric keypad, which I personally do not mind, but can be a dealbreaker for some. The 15″ model has that though.
Speaking of the trackpad, it's very responsive and the clicks are also tactile. It comes with a Microsoft Precision driver installed and all the gestures work smoothly as they should.
Ports
Now coming to the I/O, the right side of the laptop has a 3.5 combo audio jack, and a USB 2.0 Type-A port. There is also the Kensington lock if you happen to use one.
And on the left, there is a USB 3.2 Gen 1 Type-C port, two USB 3.2 Gen 1 Type-A ports, an HDMI 2.0 port, an ethernet port (RJ45), and a DC power-in port.
One of the USB Type-A also supports charging other devices even when the laptop is shut down.
Performance
Intel Core i5-1135G7
8GB DDR4 RAM
256GB NVMe SSD
Vacant SATA port
For performance, this laptop is rocking the Intel Core i5-1135G7 CPU, with 8GB of DDR4 RAM and a 256GB NVMe SSD.
4GB RAM is soldered to the motherboard, while a SO-DIMM slot comes installed with 4GB RAM. It also comes with a vacant SATA port for a 2.5" hard drive. The NVMe SSD and Wi-Fi card are also user-upgradable.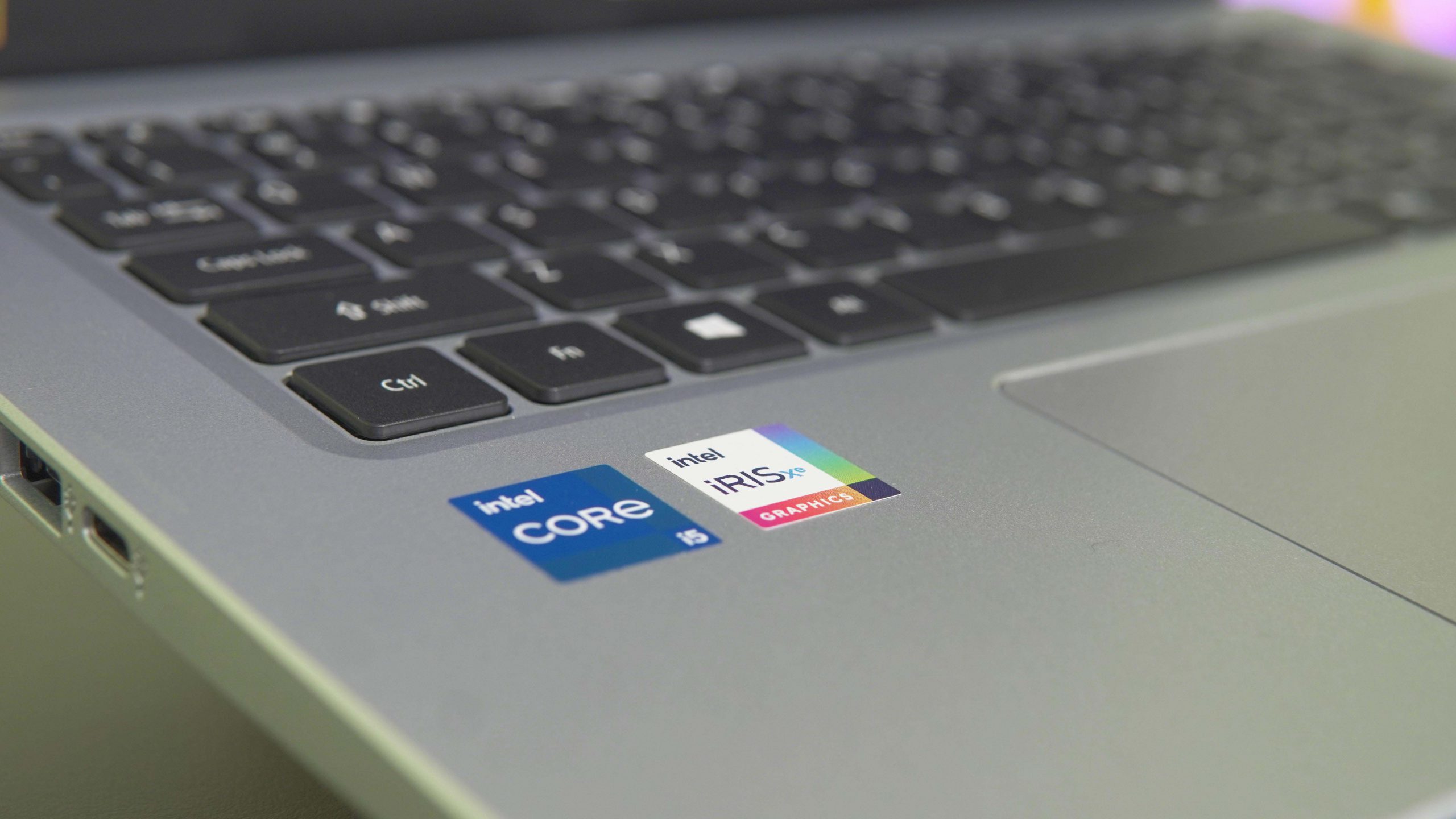 I compared the performance of this laptop against the similarly priced Lenovo Ideapad 3, powered by AMD Ryzen 5500U.
On Cinebench R23, a CPU benchmarking tool, the Acer Aspire 5 managed to score around 1350 single-core points and almost 5400 multi-core points. Running the same test on the Lenovo IdeaPad 3 2021, it scored less than 1200 single-core points and over 7000 multi-core points.
It showed that the single-core performance of the Intel i5 is better than the Ryzen 5, but when it comes to multi-core performance, Intel 1135G7's 4 CPU cores simply could not compete with the Ryzen 5500U's 6 cores.
Testing the laptop's graphics performance, AMD beat Intel in 3DMark Time Spy (a DirectX 12 benchmarking tool for testing graphics performance) by a slight margin.
In Fire Strike (a DirectX 11 benchmarking tool for testing graphics performance), the scores of both the machines were similar. However, the difference is more noticeable when it comes to rendering in Blender, a 3D graphics software. The AMD Ryzen 5 was faster by almost 70% than the Intel i5.
This slideshow requires JavaScript.
I also tried playing Valorant on it. It gave an average of around 95FPS in low settings, but a few stutters and tearing were shown here and there. You will also be able to edit light videos on it fairly smoothly. But the export time is significantly high compared to other high-end laptops, which is to be expected.
Anyway, for a normal user who does basic things, you should not have performance issues with this laptop. The laptop worked smoothly for me.
My workflow requires me to open 20–30 tabs on Microsoft Edge and do some light Photoshop adjustments. During my usage, I did not face any major issues that interfered with my work.
The laptop performed admirably, and I can safely say that this laptop is more than enough for students, programmers, office workers, or home users who do not require any graphics-intensive tasks.
I also did not find the laptop to get hot during my normal usage. But when gaming or editing, the left side of the laptop can get a little heated. The fan noise was somewhat audible when sitting in a quiet room, but in an office environment, it's hardly noticeable unless, of course, you're doing some processor-intensive tasks.
Webcam
On the top bezel, there is a tiny 720p webcam. The quality is mediocre as expected from a laptop webcam. A lot of noise was visible but it is acceptable for online classes, video calls, or meetings.
Display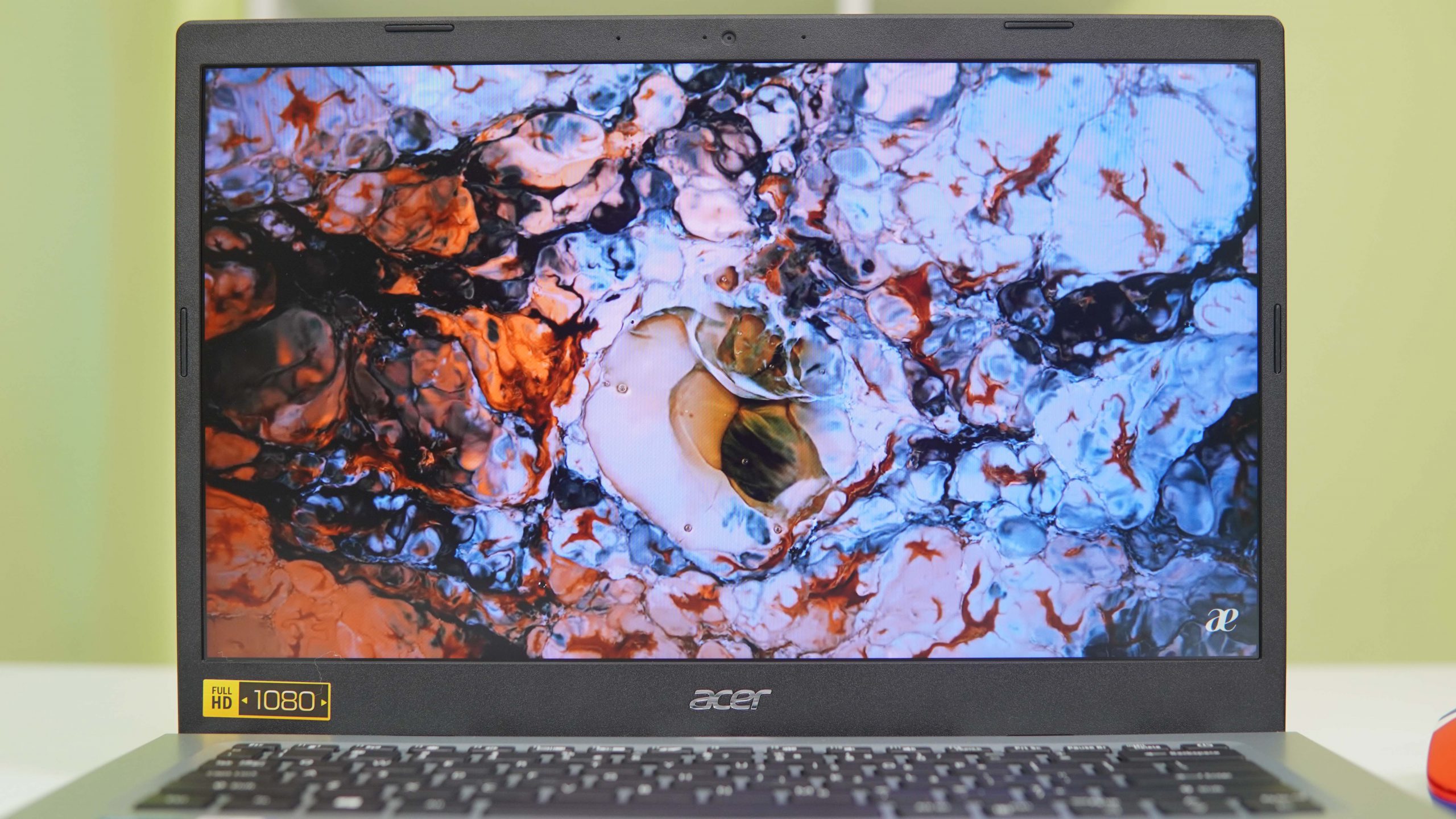 Below the webcam is a 14-inch FHD IPS LCD display with a matte finish. The display feels sharp and the viewing angles are also good, but it gets slightly dimmer when looking from the top or the bottom.
The colour accuracy of the display is far from perfect. The display appears washed out and it struggles to accurately show colours.
Talking about the brightness of the laptop, it is not that high but is sufficient for indoor use even in a bright environment. I do not have the necessary measuring device to show the brightness of the display in numbers, but during my usage, I found it comfortable for indoor use.
Speaker and Battery
Stereo speakers
53Wh battery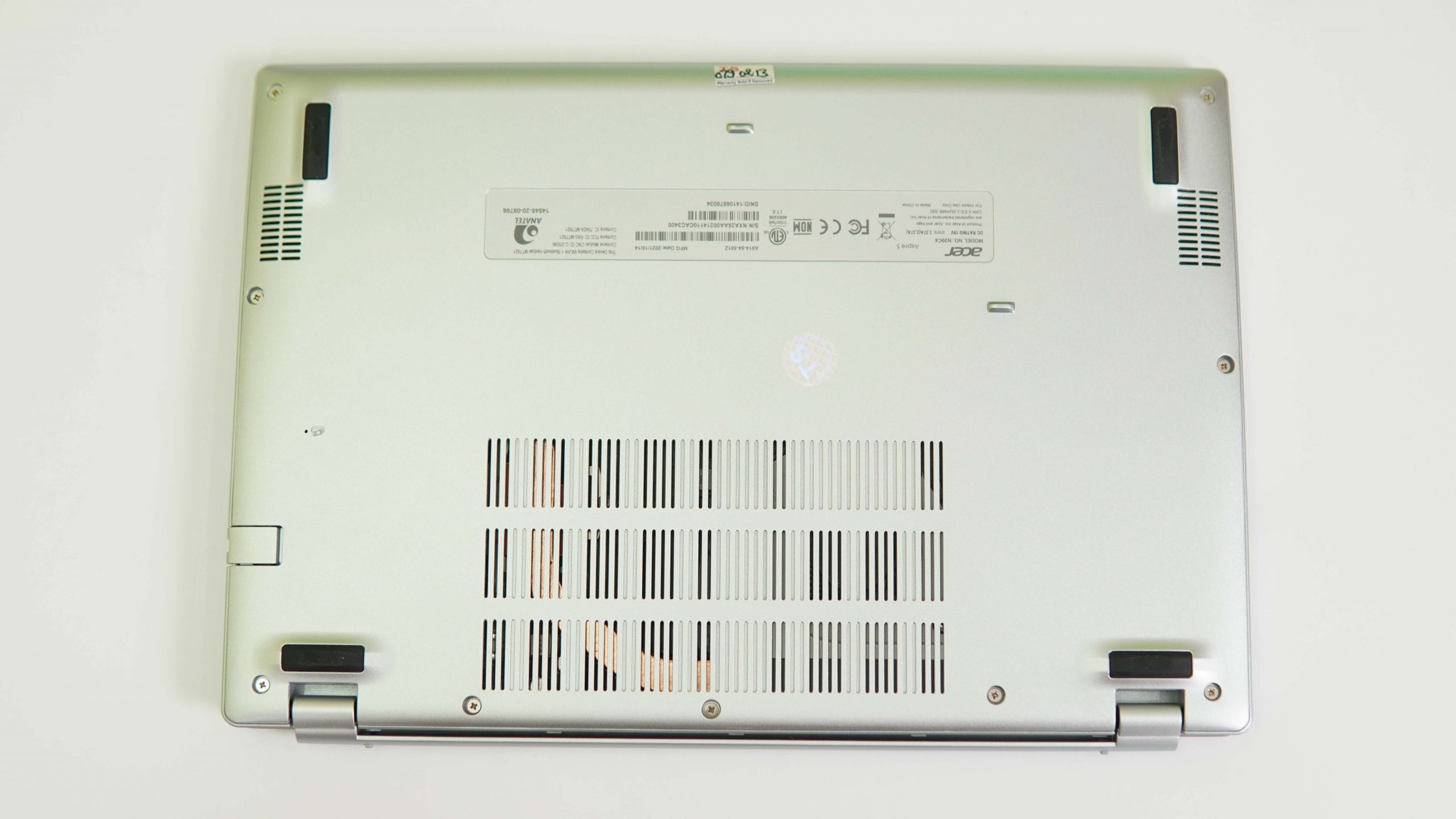 The laptop has two down-firing speakers on either side. The speaker quality is mediocre. It gets decently loud and clear but there is nothing special about it.
Even though I was using this device indoors all the time, I was not plugging it in most of the time because the battery life of this laptop is very good. It comes with a 53Wh battery.
I was getting around 8 hours of battery life with my normal light usage, brightness set at almost max. For charging, the laptop comes with a 65W power adapter with a barrel connector. It took me slightly more than 2 hours to charge it from 10% to 99% while I was using it.
Why is This Laptop So Popular Among Budget Users?
So, to answer my question — why is this laptop so popular among budget users? — it's because of the value it offers for what it costs. The laptop is sleek, fairly lightweight, and compact, although mostly made of plastic, except for the lid. The performance of the laptop is also more than enough for the majority of users. It has a great typing experience, and the battery life is also amazing.
ALSO READ: Acer Laptops Price in Nepal: Features and Specs
I would have liked to see a fingerprint sensor and backlit keys, which are, by the way, available on other Acer Aspire 5 models, but this particular model does not offer those. The colour accuracy of the screen is its only major drawback. But it's something that is common in almost all the laptops in this price range, so it's not too bad.
And to be honest, most users are not even going to notice the washed-out colours of the display unless compared side by side.
So, for an average user, the Acer Aspire 5 is all they need.